Oceanic Merc Corp
www.omcmwo.com
 -  21+ Australia-based Gaming Community
MechWarrior Online - PC
Recruitment information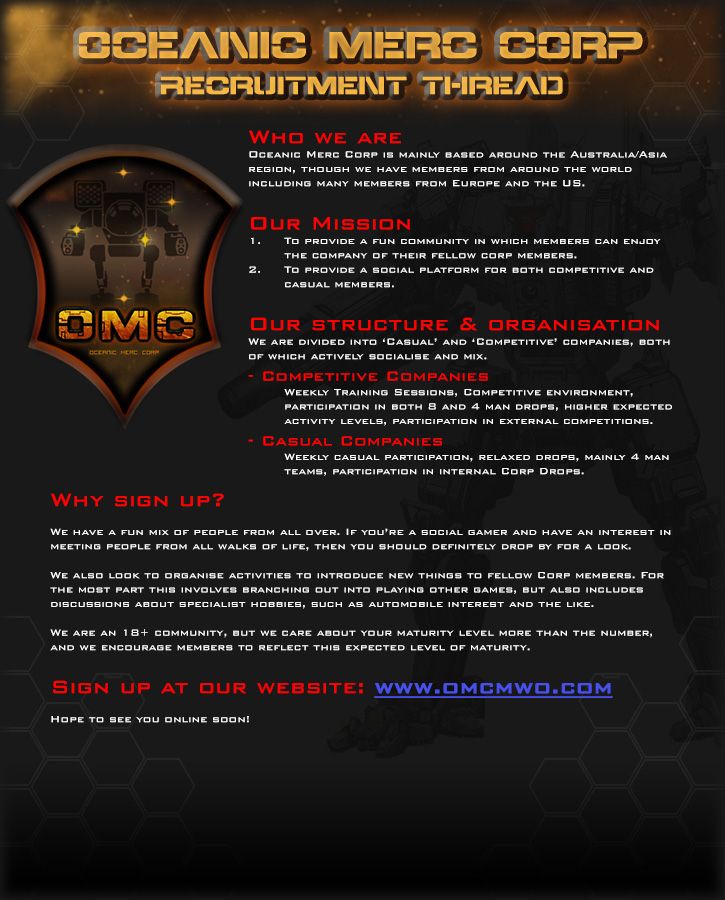 Other relevant info you may like:
Q: By what benchmark do you consider yourselves the most competitive in the Australia region?
A: Simple answer to that, we're basically the only merc corp in the Australia/Asia timezone which is able to field a competent 12 man team on a regular basis for skirmishes and duels.
Q: When were we founded?
A: Our core has been around since closed beta in July 2012. We stopped recruiting to reorganise the corp to ensure members got the most out of their experience.
Honest Numbers:
Registered Members ~175
Active Members ~100 (Active being defined as being on TS/Ingame at least once a week)
Rough numbers online daily at peak AEST, 6pm - 10pm, ~20.
We have 4 Active companies, as defined above, that run regular training sessions, mainly on Mondays and Thursdays.
Other Gaming:
We also play several other games outside of MWO, including, but not limited to:
Payday 2
Arma
Dungeons and Dragons Online
World of Tanks
Battlefield 4
The Red Solstice
Minecraft! (We have a guild server Posted Image)
Any other questions, feel free to enquire here, or drop by our website!
We're also on Facebook for those of you with that:
https://www.facebook.com/OMCMWO
Lastly, our TS @
ts.omcmwo.com
is open to public, so drop by and play a few rounds!
Cheers.
Apply Here